These are sculpturing the surface of the glass by Handheld Electric Engraver with Diamond wheel Point.

These works are makeing Delicate shading (light and dark) on galas plate, like a Ink painting(Suiboku-ga).
It was able to create attractive works by sculpturing on flat glass based on black, and taking exquisite balance of white emphasis and blur.
This engraving material uses a mirror called "dark mirror" whose back side is processed to be black.

It is very difficult for me to make sculptures and expressions of my work image from the back side. As a result, the rarity value of these works has become high.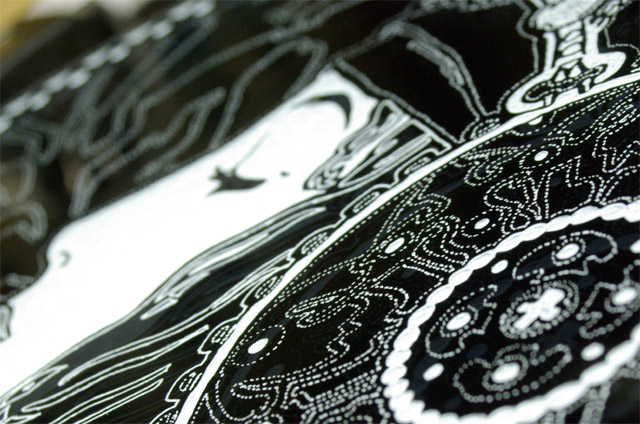 Diamond point sculpture technique was born in the 16th century in Venice, Italy. It spread to the Netherlands in the 17th century and even to the UK thereafter.

In Venice, lace knitting was thriving at that time, it started to incorporate the image of the lace pattern into the glass.

In those patterns, "Lace pattern" such as "arabesque pattern" is engraved with lines.

In Venice, there was no evolution of the subsequent technique, but it has made wonderful evolution in other countries that inherited the technique.

In the Netherlands, it was divided into two major techniques, "Line sculpturing" and "stipple sculpturing", developed and sculpted a lot of sculpture works of "portrait of people" and "landscape" mainly.

Also in the UK, the technique was introduced from the Netherlands as well, and it was attracting attention and became popular in the 18th century.

It is extremely time consuming with precise and delicate manual work to produce the work, so it was only done as a leisure for rich upstream families' daughters, its rarity value is extreme.

Even today, it requires extremely detailed and troublesome manual work, and it is still unsuitable for industrial production.

Only a few authors are using this technique, and the work is very valuable.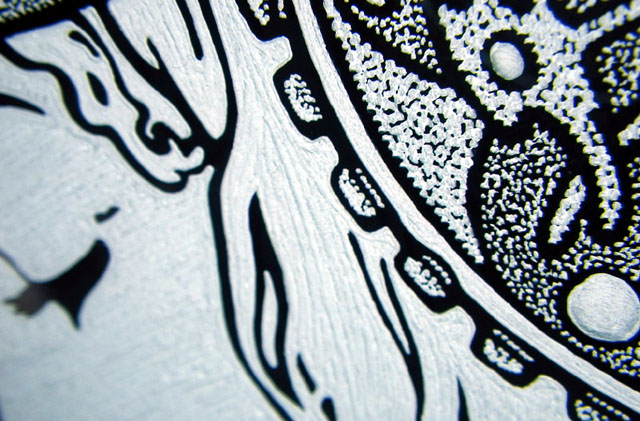 Still, the charm of this technique that can be decorated with delicate and brilliant surfaces that can be freely and imaginative like paintings, which can not be done with other sculpture techniques, is profound and has unlikely possibilities.
This wonderful diamond point technique can be applied not only to "Dark Mirror" but also from small to large pieces of glasses and tumblers, and various glass products will be reborn as attractive works.